Interview in Aesthetics, surgery and Cosmetics magazine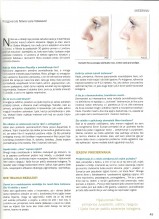 Continuing with Dr Milojevic's press coverage in Croatia, as part of opening his new clinic in Zagreb, Dr Milojevic gave an interview to a magazine called: "Estetika, Kirurigija & Kozmetika", and the title needs no translation! The magazine is a fresh new look at the world of aesthetic medicine and aesthetic plastic surgery in general. As a key opinion leader in this field, the magazine were keen to ask Dr Milojevic a few questions, and to hear his thoughts on the industry as a whole.
In the interview he talks about his career in aesthetic medicine so far, about his father  (Prof Boško Milojevic) who was THE pioneer of aesthetics in Europe as a whole  , about his London clinic as well as his newly opened  state of the art, beautiful new clinic in Zagreb.
In the interview he talks about the "divine trilogy" of aesthetics , that is botox, dermal fillers and lasers. With these 3 non-surgical tools, we can achieve perfect non-surgical facial rejuvenation.
He answers in depth questions on: just how are non-surgical eye bag and nose corrections done?!
He also talks about his excitement to be the first to have brought VASER lipo to the region, and reveals many exciting plans for the future.